How is it February already? I can't believe Valentine's Day is nearly upon us. And, in just a few short days, my hubby and I will be celebrating our 10th anniversary! We always celebrate the date we started dating on V-Day because we met the weekend before. A whole decade...whoa!!! Maybe we should try to get a babysitter and actually go out for dinner together or something. Ha!

I'm back participating again in "5 Question Friday" over at the My Little Life blog! I've really missed these Friday questions, they are such a fun way the end the week and I love answering random questions, apparently. It's a great skill to have as a parent! ;)

If you want to join in, head over to Mama M's blog right here: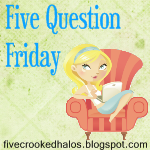 1. What have you done recently that you are proud of?
I've attacked most the clutter areas of our house and reorganized our cabinets to make things more efficient. SO worth the effort even if just blends in, completely unnoticed by anyone but me and my hubby! ;)
2.
What is your favorite way to work out? Or if you don't workout, what are you wanting to try?
I hate sweating. Period. Pilates is more my style, or the New York City Ballet workout series. Awesome for toning and keeping your back strong. If I am going to *really* work out, like I did after baby #3, then I go for no frills basic routines like: Pauline Nordine (The Butt Bible), Jillian Michaels (30 Day Shred), Gilad
, etc.
3.
If you knew you best friend was cheating on spouse would you tell?
Don't hate me, but no. That's between the friend and her spouse. It wouldn't be my place to interfere.
4.
If you could afford a live-in maid or nanny, would you have one?
Absolutely! The maid, for sure. Actually, I don't know about "live-in". That could be pretty awkward in our tiny house, if not impossible!
5.
Do you stress out about birthdays (specifically the age) or do you enjoy them?
I do, a little. I still enjoy them anyway! Birthdays are the best excuses to celebrate and have fun!! I think 35 will be a tough one for me. Sigh! Oh well, I will celebrate it with a fun girls weekend in Bayfield, WI/the Apostle Islands and that will take the sting out!
And, a bonus question from Scott, that I wasn't brave enough to put in as a regular question...answer at your own risk, or not at all! (Or something...)
I defer on this one...haha!
Thanks so much for reading and have a fabulous weekend!!