It's Friday again! Did this week go incredibly fast or what??! I can't complain about that. The weather here has been incredible. Superb, even! Although, I just finished a new sun hat for my daughter and today it rains. Oh well!

I feel like some 5 Question Friday today!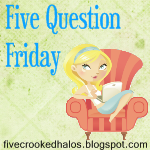 1.
Do you have an iPhone and, if so, how do you get apps and what are your favorites?
Nope, not interested...yet. I don't want to switch service providers and I LOVE my Blackberry. Although, I did hear that the iPad has an awesome app for knitting & sewing patterns...
2. What is your fondest memory of K-3rd grade?
Umm, I have a notoriously bad memory for my childhood. I really can't think of anything school-related so I'd have to say spending my summers with nothing to do but have fun and running down the street to my grandma's house every chance I got! :)
3. What makes you cringe at the thought of touching?
Dead stuff. I don't even like to handle moldy food when I'm cleaning out the fridge!
4. If you could have any celebrity show up on your doorstep who would it be and why?
Angela Lansbury! (Bet you didn't guess I'd pick an elderly lady - especially when I could've picked someone like Hugh Jackman, for example!)

If I hearted her any more, I'd have a heart attack. :) My friend and I even write about her old TV show at Murder She Blogged. Yeah...we're superfans.
5. What would you say is your best physical feature?
My eyes? Or my husband might say my legs. I'm 5'11" but I still love to wear heels whenever I can! :)

Have an awesome weekend and thanks for dropping by my blog today! For more Five Question Friday posts, visit Mama M's blog and check it out!