Happy Friday, dear reader! I was hoping to take the kids for nice adventure at the park today, but I see some ominous clouds out there this morning!

I'm getting back into the swing of some regular blog posts this week...I've just been busy with our new hand-stamped jewelry collection for Fancybelle Boutique. Jewelry-making is addictive, and oh so much fun! But...gotta love these 5 new questions from Mama M, they're quick and irresistible!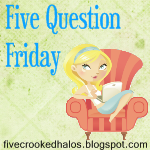 1.
What was the first car you owned?
A 1989 brown Ford Taurus...your typical 4-door family sedan. My mom gave it to me when I started college and I sold it after the car began a pattern of randomly dying at intersections. I took it to a few mechanics and they told me nothing was wrong (go figure). But YOU try living in fear of every stop sign or red light!
2. What song are you embarrassed to know the lyrics to?
I don't know about embarrassed, but I sure know a lot of useless song lyrics. How about "Ice Ice Baby"...or "Baby Got Back"...or "Return of the Mack"...or any hit by the Spice Girls. I've got the 90's pretty well covered!
3. Have you ever had stitches?
Yes, but only after surgeries...not accidents. I've had six so far, but not all have required stitches...thank God!
4. What was your first job?
Beyond babysitting? I got my first job with an actual paycheck when I was 15 at my hometown library. I think it paid $4.25, minimum wage. I was a library page...shelving books, helping at the check-out desk, shelving more books. It was the perfect job for the shy girl I was back then...plus, I got to listen to my Walkman the whole time and I wasn't charged overdue fees! Ahhh, the halcyon days of the library...
5. Who is your favorite Sesame Street character?
Oh, I totally loved Big Bird! He was adorable...such a sunny personality. :)
Thanks for dropping by today and have a terrific weekend!!