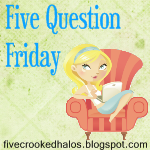 Happy Friday! It's Five Question time again! Hope you had a terrific week, and that there are plenty of fun weekend activities awaiting you. :)

1.
What's your guilty pleasure?
Ummm...watching "The Bachelor/The Bachelorette". I've seen literally every season of it and I'll probably even watch Jason and Molly's televised wedding next week. The show itself is such a flawed method of finding "true love", much less a spouse, but I get sucked in every season...even if I previously renewed my yearly vow of never wasting my time on it again. Give in to the cheese!!
Of all time?? That would be a little 12-season gem from the 80's and early 90's called "Murder, She Wrote". I've watched nearly every episode, thanks to instant Netflix. My friend and I are so obsessed that we even started our own website about...Murder She Blogged. Check it out, if you're looking for a few laughs!
3. Can you speak any foreign languages?
Some Spanish. I took 5 years of that language in high school and college, but I'm incredibly rusty. When I'm around Spanish speakers, it all comes back. My brain clearly has the info hiding in there somewhere, probably lodged between random factoids about Elvis Presley and the War of 1812.
4. How many pairs of shoes do you own?
Way too many, if you ask my husband! I've made a deliberate effort in the last few years to pare (snort!) down my shoe collection. Come to think of it, I actually haven't bought any shoes for myself in the last year. Wow.
But I have backlog of at least 30 pairs, not including boots. I live in the Midwest, after all. That means winter boots, summer sandals, dress flats, tennis shoes...I could go on and on!
5. What's your favorite kind of M&M's...peanut, almond, straight up regular, etc.?
Hands down: peanut M&M's. They're my go-to vending machine snack of choice. Hey, there's a little protein in those peanuts!!
There you have it...the Fancybelle edition of 5QF for this week! Check o

ut the
Mama M.
version over at My Little Life, plus many others, if you want to read more. :)
Oh...I'm participating in Friday Follow this week too. I think it's so fun getting to know new blogs!