Friday is here at last! Are you excited for the weekend? I can't wait for Saturday...I'm having lunch at my favorite French restaurant with two close friends I haven't seen in months. Yippee!! Bring on the real french onion soup and flaky pastries!

Happy 5 Question Friday!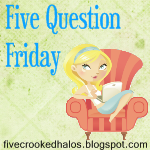 1.
Did you pass your driver's test on the first try?
Yep. The instructor actually said, "I shouldn't be passing you because you really need more driving practice, but I'm going to do it anyway." Har! He was right, though. I had a fender bender in my high school parking lot a few weeks later.
2. What is your most embarrassing moment?
Is it bad that I can't come up with anything? I'm just not the type that embarrasses easily. Not that I don't have plenty of lame moments I probably should be embarrassed of! (And it helps to have a really poor long-term memory!)
I guess I figure that whatever I do, somebody else has been there before or had it worse, so it's really not a big deal. And if you do something stupid in front of strangers, you probably never see them again. Hopefully!
3. What TV show would you like to be on- Oprah, Biggest Loser, or What Not to Wear?
Wow...this is a toughie. Oprah would be awesome! But, I'd get a free wardrobe on What Not to Wear. Can I choose to be on an Oprah's favorite things episode? People in the audience on those episodes seem like their having the time of their lives! "Everybody gets humpback whales!!!" (Dane Cook)
It would be an amazing time.
4. Would you ever get plastic surgery and what kind?
I guess would consider a tummy tuck after I'm done having children. I've bounced back fine so far, but you never know what could happen after #3, or even #4!!
5. What are your favorite jeans to wear?
I have two pairs of jeans from Old Navy that fit me perfectly. I'm not one of those "jeans as an investment" types. I don't think I've spent over $30 on a pair since college! I much prefer skirts anyway. So comfy.
Want to read more about 5 Question Friday? Go to My Little Life, and enjoy! Hope your weekend is terrific!