Yay! Is it just me or has it been an especially long week? I'm so looking forward to this weekend! Hopefully we'll be going on a short shopping trip to IKEA...I need to score a new desk chair and check out their curtain selection for my bedroom makeover. :)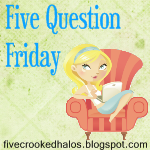 1.
How much time do you spend on the computer a day?
More now that ever, since my spine surgery. I need to take time to lie down throughout the day, so when I don't feel like knitting, I'm online. Usually I check my email upon wakening, then again when Lucy Belle takes her morning nap...then it's computer time again either during naps or after the kids hit the hay for the night. Probably 3 hours/day...whew, that's too much, but still less than when I was working full-time. :)
2. Will you pay for your children's college or raise them to pay for their own way?
I once had a friend tell me that she'd never have more children than she could afford to support through college.
I completely disagree. It's my expectation that my kids would pay their own way, just like I did. But, more importantly, I don't think college as I experienced it will be what my kids will experience in another 15+ years. I just don't think the expense of a college education is sustainable, especially with the yearly tuition increases that are common now. Something's gotta give!
And what if my son or daughter decides to become a truck driver instead of an accountant? Or a self-taught musician instead of chemist? There's no telling what the future holds.
3. Have you ever been in a car accident?
Yes, several. The most recent was the day before New Years Eve, the first year I lived in Minneapolis, and I was rear-ended at a stoplight. Terrible whiplash. Boo!
4. What is your favorite book?
"Crocodile on the Sandbank" by Elizabeth Peters. I love so many books, but this one I can read over and over again...I never tire of it! Thank you Amy, for introducing me to this book. :)
5. Do you make your bed everyday?
Absolutely. It's one of my things. It just doesn't feel right to leave it undone!
Hope you have a fabulous weekend and that we finally see some sun again around here! Want to read more about 5 Question Friday? Head over to Mama M.'s blog to read more.
And it's my second week participating in Friday Follow...so much fun. :)