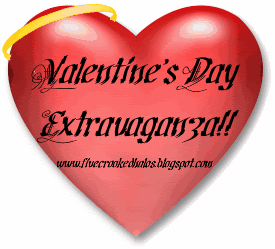 This Valentine's Day will be the eighth anniversary of when my husband and I first started dating! We actually met the weekend before, but always celebrate V-Day as our own special day. We're not celebrating in style this Sunday, however...I still can't do much while I'm recovering from spinal fusion surgery. I'm not supposed to sit more than 20-30 minutes at a stretch, so that kind of cancels a fancy dinner out. And I don't usually feel like eating right now anyway.

Thus, in honor of Valentine's and anniversaries, I thought I would join in with My Little Life's awesome blog extravaganza by sharing my favorite wedding memory! A little background: we first got married in Las Vegas, then had a Catholic ceremony after my son was born. If you feel like hearing the whole recap of our "big" Catholic wedding, check it out on my former LiveJournal blog.

Anyhooo...my favorite wedding memory! When it was time for me and my dad to walk down the aisle together, I was so excited to see Ben and for the ceremony to start that I charged forward really fast. My Dad had to yank me back, whispering, "Slow down!"


The second I saw all the beaming faces of my family members, tears welled up in my eyes. I was completely overcome with emotion and felt a rush of elation! In retrospect, I wish I had been able to see the look on my mom's face then, but I was afraid I'd turn into even more of a sobbing mess.
I locked eyes with my hubby and he looked amazing! Love just radiated out of him and seemed to fill the whole church. Even though we were already married, this was such an intimate and wonderful moment between the two of us. :)
It was the start of a whole new life together before God, and I couldn't have been any happier!