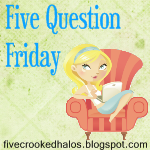 I thought it would be fun this Friday to jump on the My Little Life blog's bandwagon and continue the Valentine's extravaganza by writing more on the subject of LOVE! Hope you're having a fabulous Friday and best wishes for a romantic V-Day weekend...

1. What is the one thing your love does for you that you can't live without?
Man, this is going to be hard to narrow down! After 8 years, I've gotta say we're still a great team and best friends. We really know how to work well together and get things accomplished. That being said, my husband and I are in sincere agreement that neither one of us ever wants to find out what it's like to be a single parent. It would be enormously hard to go it alone in so many ways...I'm grateful for my partner more than I can say!

Oh...and 99.9% of the time, my husband is the one who takes out the diaper genie trash. My nose and I thank him.

2. When did you know your love was "the one"?
I thought my husband was "the one" very early on in our relationship, but I knew he was it for me after we went through some struggles and came out loving each other even more than ever. I agree with a quote that goes something like...a happy marriage is falling in love many times, always with the same person.

3. Does your love have a special ringtone on your cell?
Absolutely!! He even has a special ringtone just for text messages!

4. What are you attracted to most in your special someone?
He's got some hot arms, I'm not gonna lie! And nice broad shoulders. And...well, I could go on and on. But beyond that, I love how our minds click. We can talk about anything, from genomes to pillows, and enjoy ourselves. My husband also finds my little jokes to be quite funny, and I love a good audience!

5. Did you know when/where he/she was going to pop the big question?
Oh yeah! We were at the Irish Fair on Harriet Island in Minnesota and he proposed after we decided it would be fun to exchange silver celtic wedding rings.