It's almost an hour into Saturday, but I thought the questions for this week were too fun to resist!
Welcome to Five Question Friday, courtesy of
My Little Life
blog...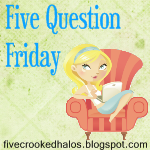 1.
Do you sing karaoke? If so, what is your go to song?
I do, actually! Something happened to me only a few years ago...a surprising and much welcomed change. I can finally recognize when my own singing is off-key or "pitchy", as the American Idol judges would term it. Now I'm always the singer for Rockband Wii here at my house. 
My best karaoke songs are classic Cher hits like "Gypsies, Tramps & Thieves" or "If I Could Turn Back Time". Raise the roof!
2. What is your favorite coffee drink?